Lors de restauration de vieux amplis Fender (Blackface, Silverface), j'ai noté deux points surprenants :
le volume arrive très vite
les aigus sont très présents, même avec les réglage de tonalité à 12h
C'est particulièrement flagrant si on change les potentiomètres de volume ou de réglage des aigus (parce qu'ils "crachouillent", trop vieux) : la puissance arrive plus progressivement (potentiomètre de volume), et il faut pousser les aigus pour retrouver le caractère habituel de l'ampli.
C'est dû à la courbe particulière des potentiomètres utilisés à l'époque par Fender : du Log 2-35
Je me suis amusé à comparer ces courbes (graduation de 1 à 10, comme sur les boutons Fender) et voici ce que l'on obtient (j'évoquerai plus bas les courbes du (Taïwan) Alpha 1MΩ Lin et du CTS 1MΩ-Log)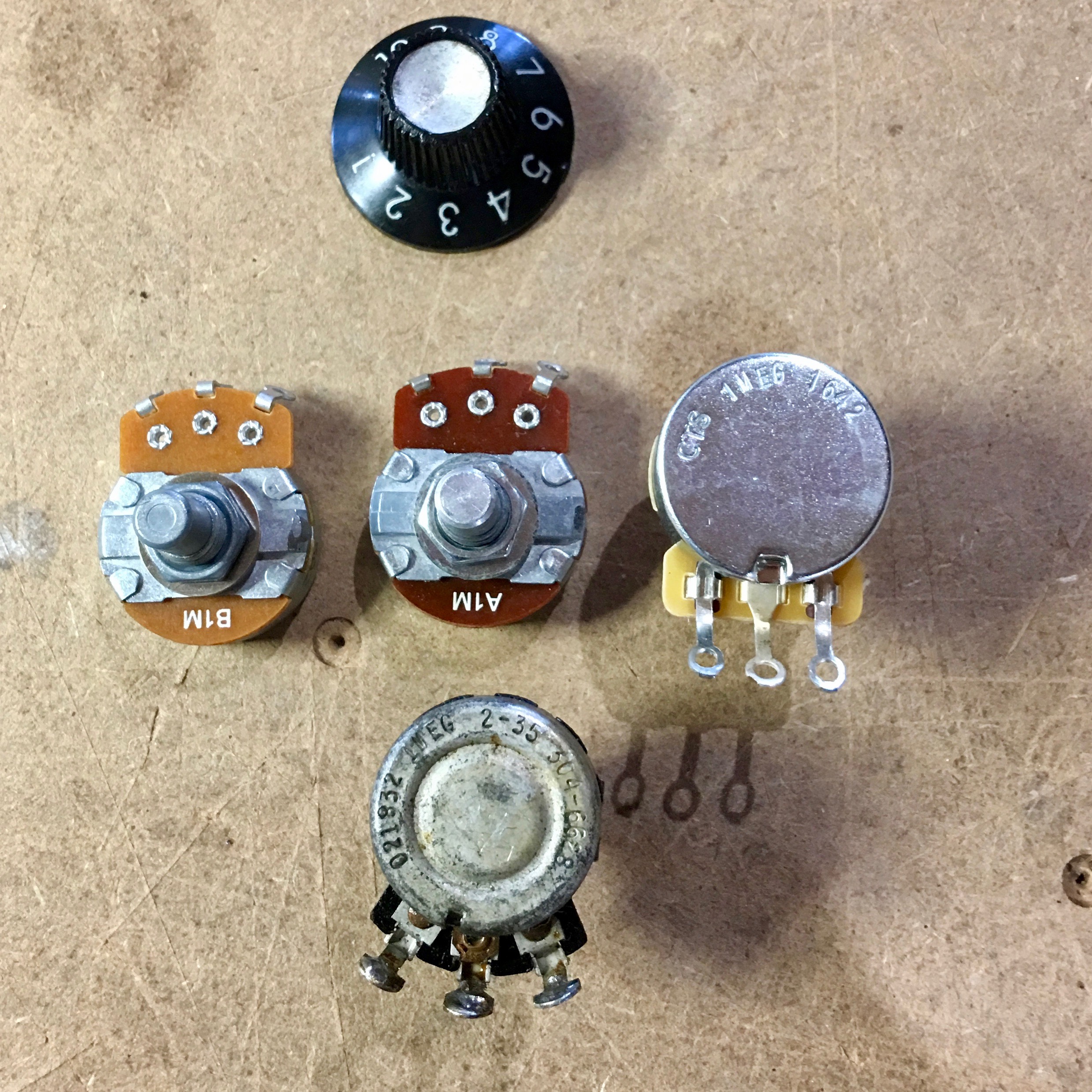 When restoring old Fender amps (Blackface, Silverface), I noticed two surprising points : the volume is not very progressive and the high frequencies are very present, even with the tone settings at 12 o'clock. This is due to the curve of the 2-35 log potentiometers. Here are my measurement curves (Taiwan Alpha 1MA potentiometer Vs "Fender" 1MA 2-35)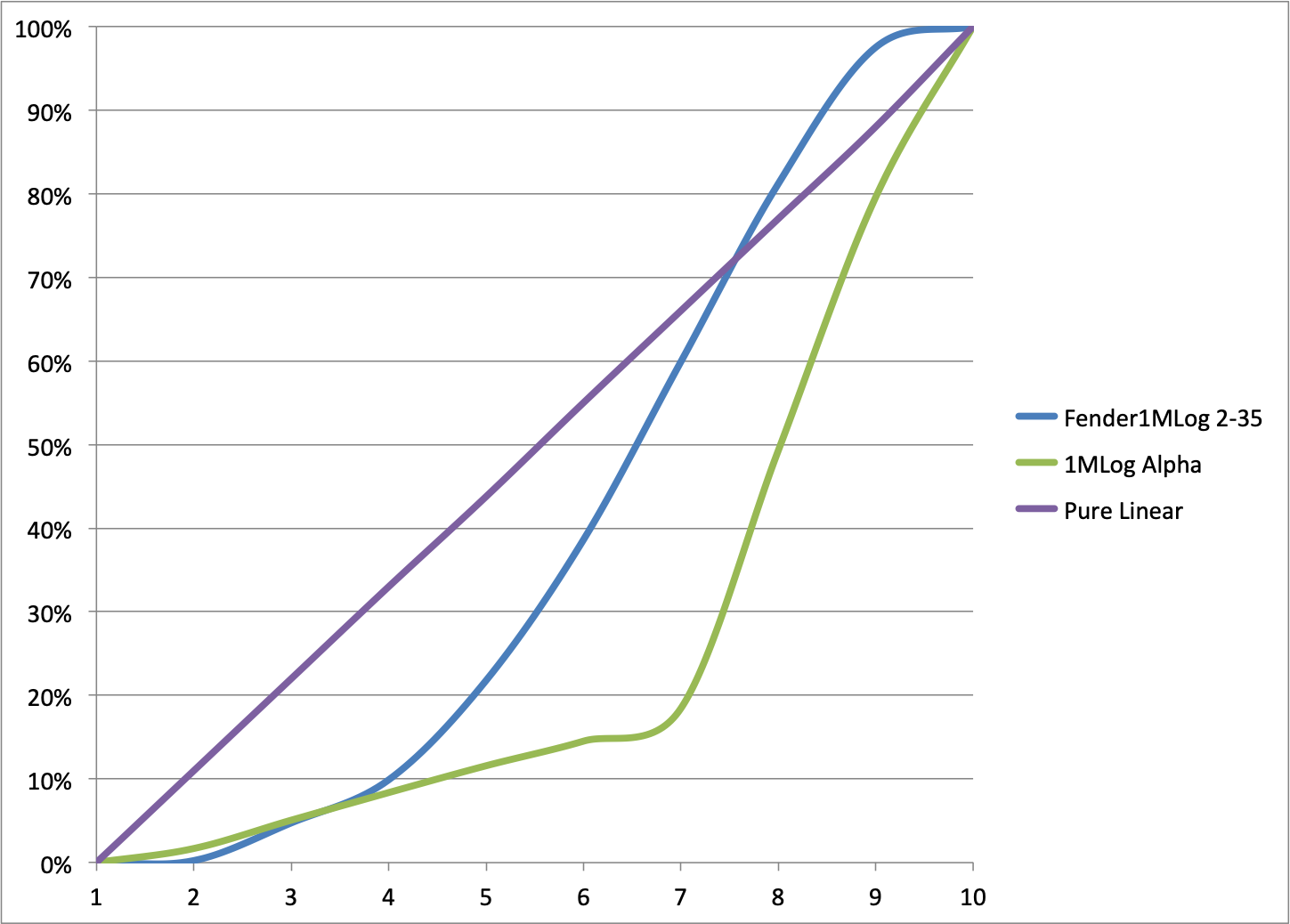 La courbe linéaire théorique est là comme référence. On note que de 1 à 4, les potentiomètres Alpha 1MA et 1MA 2-35 se comportent quasi à l'identique (au moins sur les potentiomètres que j'ai testés). Ensuite, le 1MA 2-35 devient plus "brutal" et la courbe grimpe rapidement. Ainsi, quand le potentiomètre d'aigu est positionné sur "5", il faut positionner le potentiomètre Alpha à 7 (voire un poil plus) afin d'obtenir le même taux d'aigus.
A noter que le "vrai" potentiomètre d'aigus est un 250kA-2-35 (et non 1MA 2-35) sur Fender, mais je suppose que la courbe d'atténuation en fonction de la rotation est identique à celle d'un 1MA 2-35.
(Theoretical linear curve is there as a reference) We note that from 1 to 4, the Alpha 1MA and "Fender" 1MA 2-35 potentiometers behave almost identically (at least on the potentiometers I tested). Then, the 1MA 2-35 becomes more "brutal" and the curve climbs quickly. Thus, when the treble potentiometer is set to "5", the Alpha potentiometer must be set to 7 (or even a little more) in order to obtain the same treble rate.
(Yes, I know that treble potentiometer is in fact a 250kA-2-35 (not 1MA 2-35) with Fender amps, but I suppose that the attenuation curve as a function of rotation is identical to that of a 1MA 2-35).
Pour compléter, voici la comparaison entre les potentiomètres Alpha 1MLin, 1MLog 2-35, Alpha 1MLog et CTS actuels 1MLog
Here is the comparison between the potentiometers Alpha 1MB, "old Fender" 1MA 2-35, Alpha 1MA and CTS "nowadays" 1MA :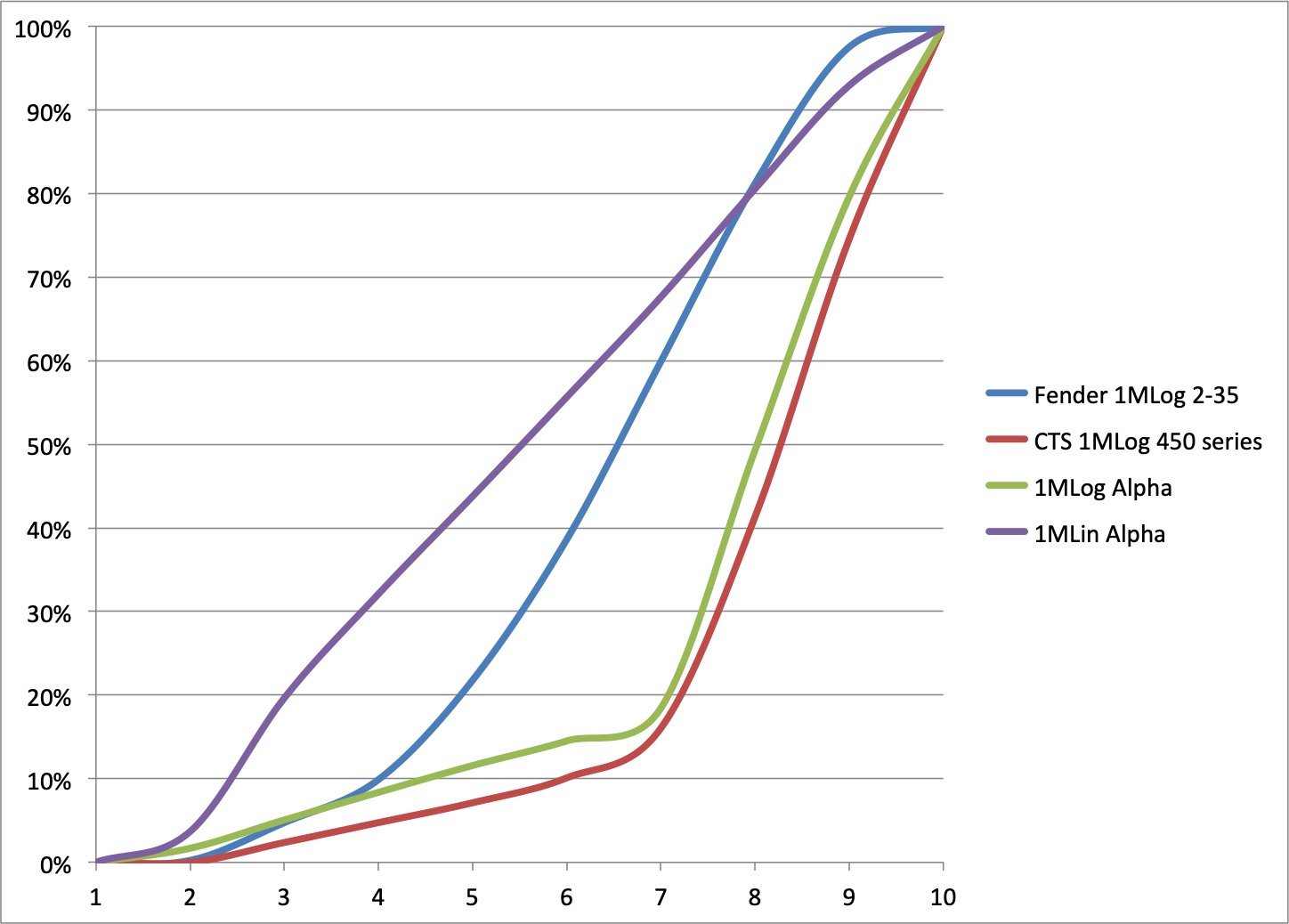 Le potentiomètre CTS 1MA et le potentiomètre Taiwan Alpha 1MA présentent tous les 2 une courbe quasi identique. The CTS 1MA potentiometer and the Taiwan Alpha 1MA potentiometer both have an almost identical curve.
Pour finir et être le plus précis possible, je pense que le potentiomètre Alpha utilisé est de référence RV24AF – 10 : je ne sais pas si Alpha propose d'autres courbes Log (ce qui est le cas chez Bourns, par exemple). Le CTS est un "450 Series".
To be as precise as possible, I think that the Alpha potentiometer used is of reference RV24AF – 10 : I don't know if Alpha offers other Log curves (which is the case with Bourns, for example). The CTS is a "450 Series".
Février 2021
J'ai mesuré un potentiomètre Bourns 1M-A ref PDA241-HRT02-105A2. Voici sa course :
I measured a Bourns 1M-A potentiometer ref PDA241-HRT02-105A2. Here are the curves :